NOT: İÇERİĞİ İNGİLİZCE OLAN BİR EĞİTİMDİR
For Zoom Link 👇
👉🏻You can sign in isu.network portal and click the events section.
👉🏻 If you are a member you can click here.
Bu eğitimin her farklı oturumunda yoklama girişi yapılması Manifesto 1 ve 2 için etkinlik puanı olarak sayılacaktır. 
Each session of this training will count as activity points for Manifest 1 and 2 when you sign in the attendence link.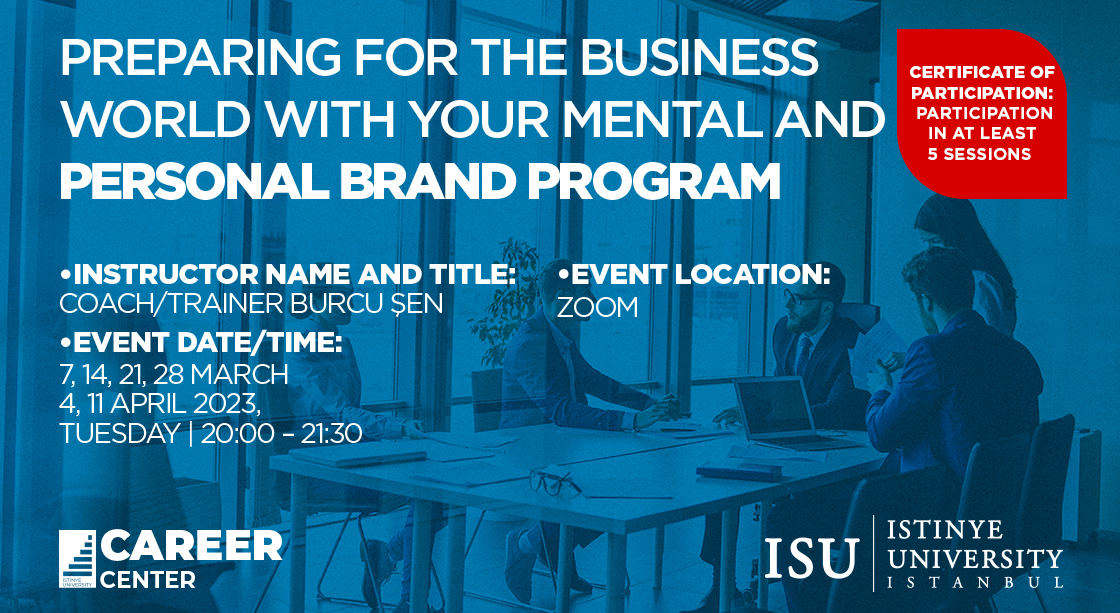 Training Name: Preparing for the Business World with Your Mental and Personal Brand Program
Trainer name and title: Coach/Trainer Burcu Şen
Trainer Date/Time: 7, 14, 21, 28 March; 4, 11 April 2023, Tuesday 20:00 – 21:30
Training Location: Zoom
Certificate of Participation: Participation in at least 5 sessions
Training Introduction: You have started to prepare for the business world and even to participate in job interviews. But your experiences aren't very positive? In this program, you will learn how to express yourself with your Personal Brand in job interviews by holding a mirror to yourself, how to be mentally prepared for the business world and how to achieve success by expressing yourself more effectively.
Training Details:

Week 1 / Am I Ready for Work? /Mentally Focus on Your Goal

After the application assignment is given. The Implementation Assignment will prepare your own manifest plan.

Week 2/Removing Emotional Barriers to Preparing for Work.

After the application assignment is given. Mapping the Emotion for 1 week

Week 3/Preparing for Business with My Personal Brand/Defining Your Personal Brand Identity/Discovering Your Elevator Phrase/Understanding What a Personal Brand Is

After the application assignment is given. Individuals who must complete the Personal Brand Identity Document

Week 4 / Preparing for Target Companies for My Personal Brand in Business / How Should I Express Myself? Presentation and Written Communication Techniques

Followed by the Practice Assignment. Action is taken to plan a meeting with 5 target companies.

Week 5 / I manage my personal brand in business on social media. /How to manage your personal brand correctly in the digital world/LinkedIn information

Followed by the Practice Assignment. Social Media is also targeted to post 3 posts about your Personal Brand.

Week 6 Evaluation of the Entire Program and Development and Graduation

Training Mobile contact number: 05304904781
Trainer email adresi:burcusen@iyibiriz.com
Trainer Instagram Link: @burcu_sen
Trainer Linkedin Link: (1) Burcu Şen | LinkedIn
Trainer Web Link:iyibiriz.com
Trainer Short Biography:
Hi I'm Burcu Şen,
After working as a manager in Human Resources, Organizational Development and Transformation projects at Koç Holding for nearly 15 years, my Entrepreneurship story started in 2017 with my expertise as a Professional Coach graduated from International Ericson Coaching School and NLP Master Practitioner graduated from NLP Turkey Academy.
In 2020, I established İyibiriz Strategic Development and Brand-Entrepreneur Consultancy, which is Turkey's first Mental Empowerment-Oriented Personal Branding, Leadership and Entrepreneurship Center.
My goal with my brand is; Within the scope of POWER Project, we enable the people, institutions and brands we work with to discover the power within them with my trainings, consultancy and seminars.
Because growing my brand in the uncertainties inherent in entrepreneurship was both challenging and instructive. I have not given up on discovering the POWER and PASSION in me on this journey. I always searched for the new with PASSION. Most of the time I was scared, sometimes I rested, but I never stopped acting.
And that's when I realized that the world is changing people, brands, entrepreneurs who discover their POWER WITH PASSION.
BRANDS are created by people who move their power with passion.
STARTUPS have grown entrepreneurs who work with passion.
COMPANIES are driven forward by passionate leaders.
Together with My Brand is Good, I aim to discover the real passion in people and thus reveal their leadership and reveal the brands, entrepreneurs and companies that sign on to the world.